The DOI's Announcement to Restore Lands and Waters and What this Means for Philanthropy
Today, Friday, March 3, 2023 World Wildlife Day, Secretary Deb Haaland delivered remarks at the UN's celebration and announced major restoration and resilience strategy that includes agency guidance and $25 million in funding to restore bison populations.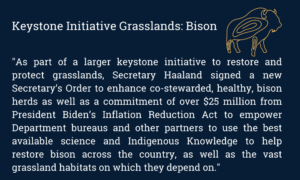 For Tribes at the forefront of this work, this means a deeper investment in restoring wild and healthy populations of American bison and the prairie grassland ecosystem, as well as other climate-impacted areas. The full announcement can be found on the Department of Interior site.
DOI will work to restore wild and healthy populations of American bison and the prairie grassland ecosystem through collaboration among Department bureaus and partners such as other federal agencies, states, Tribes and landowners using the best available science and Indigenous Knowledge.
Comprehensive Restoration and Resilience Framework
The Secretary's Order 3410 will formally establishes a Bison Working Group (BWG), which will be composed of representation from the five bureaus with bison equities: the Bureau of Indian Affairs (BIA), Bureau of Land Management, U.S. Fish and Wildlife Service (FWS), National Park Service (NPS), and U.S. Geological Survey. According to the press release, "Central to the development of that plan will be robust engagement with Tribes, including prioritizing Tribally led opportunities to establish new large herds owned or managed by Tribes and Tribally led organizations."
Over $25 million from the Inflation Reduction Act will be allocated by the bureaus to enhance bison conservation. The funding will be utilized for diverse initiatives and projects, which include creating fresh bison herds, backing bison transfers to Tribes, and forming co-stewardship agreements with Tribes to manage bison. Moreover, the funding will help in enhancing the standard of grassland ecosystems, reviving indigenous plant communities, and backing prescribed fire efforts.
"The American bison is inextricably intertwined with Indigenous culture, grassland ecology and American history..." said Secretary Deb Haaland. "...New historic funding from the Inflation Reduction Act will help support the Department's efforts to restore this iconic species and integrate Indigenous Knowledge into our shared stewardship goals."
This is part of a comprehensive restoration and resilience framework that includes other critical opportunities for Tribally-led restoration projects. The focus areas also include keystone initiatives that expand drought resilient in the Klamath Basin, Sagebrush ecosystem and habitat defense, coastal salt march resilience, and many other priorities which can be found on the Interior Department's fact sheet.
"This is historic funding from the Inflation Reduction Act to promote bison restoration and is essential for future generations." Said Erik Stegman, CEO, Native Americans in Philanthropy. "Tribes need to be in a leadership role in this work and philanthropy has a major role to play to ensure their success."
Through its Tribal Nations Climate and Conservation Collaborative, NAP is excited to support the administration's focus on bison and future ecosystem-based approaches to this work. NAP will coordinate and organize private philanthropic funding to ensure these initiatives are successful and impactful.
"Tribes have accumulated Indigenous knowledge on land and water for millennia" Said Erik Stegman, CEO, "Today these Tribes are still working to protect and restore natural and cultural heritage while stewarding the lands and waters for future generations. We are eager to support the administration by organizing philanthropy around these critical priorities."
Office of Strategic Partnership
In December, NAP announced the new Office of Strategic Partnerships (OSP). This new office brings private funders together with government officials to unlock these kinds of federal dollars for Tribes and make them work better for their communities. The OSP is the connection between the federal government, philanthropy, and Tribal communities. In building these partnerships, the OSP will leverage resources and bring awareness to the unique needs of Tribal communities, focusing on conservation, economic development, and education. Housed within the Office of the Assistant Secretary – Indian Affairs, the OSP now works in close coordination with the White House Council on Native American Affairs, and other federal partners to help Tribes and Tribal organizations develop and build long-term sustainable bonds between philanthropy, non-profit organizations, and the business community.
Our strategy to support these public-private priorities builds on the success of our partnership with the National Fish and Wildlife Foundation (NFWF) to support Tribes accessing the America the Beautiful Challenge, where 14 Tribes were awarded a total of $26.5 million. NAP supported the non-federal match for Tribal applicants to the challenge.
The National Fish and Wildlife Foundation (NFWF) recently announced the release of the 2023 Request for Proposals (RFP) for the America the Beautiful Challenge program (ATBC). $116 million in funding will be available for conservation and restoration projects. Once again, NAP is partnering with NFWF to guarantee the non-federal match for all successful Tribal applications. In the last round, we had 1/3 of the entire funding round go to Tribal projects, a major accomplishment.
Launched in 2022, this program is dedicated to funding landscape-scale conservation and restoration projects to implement existing conservation plans across the nation.
Tribes are the right leaders for this work. We applaud this latest announcement and look forward to working with our philanthropic partners to leverage these new federal resources for Tribes and the nonprofit partners that support them in this critical work.
How can the philanthropy sector engage with this announcement?
Through OSP, there will be long-term opportunities to develop public-private partnerships to support Tribally-led projects with a focus on the critical areas of conservation, education, and economic development initiatives in Native communities. Native Americans in Philanthropy will continue to work to support philanthropic investment and philanthropic support in the U.S. for Tribal governments, their conservation work, and support co-management efforts through its conservation pledge and funding collaborative.
Many global philanthropic investments in Indigenous movements and Native-led initiatives neglect U.S. based Tribes. Despite underfunding, Tribes consistently demonstrate that they are the best stewards of their lands, waterways, and cultural ways of life using Indigenous ecological knowledge and their unique legal and political relationship with the U.S. government.
Native Americans in Philanthropy would like to share our gratitude for the community of partners who have been in solidarity with our work to increase the visibility of Native people and communities, educate funders, establish meaningful relationships and increase funding to Indigenous-led organizations, movements, and Tribal Nations.
Reach out at info@nativephilanthropy.org