"Every Person Deserves To Feel Safe In Their Community" - A Reflection on the MMIW Crisis
May 04, 2021
| 4 min read
"Every Person Deserves To Feel Safe In Their Community" - A Reflection on the MMIW Crisis
Every Native woman knows how she felt when she heard that Savanna's Act and the Not Invisible Act were signed into law. Our shoulders dropped, losing our stiff and ready posture, and we expressed a collective, "Finally." These two bills aimed at addressing the missing and murdered Indigenous women's crisis. Driven by Native women leaders, these bills were not a full-scale solution but a crucial first step.
A long history of violence against Native people has led to the disproportionate disappearance and murder of Indigenous women, girls, and two-spirit people. Families and communities are left devastated, often shattered and disjointed. The stories are heartbreaking and come from every corner of North America. As a Native woman, an aunty, my own family has a missing relative. It has been nine years now, and I know firsthand how helpless it feels when a sacred child—oniijaanisan— is missing from where they belong.
Every person, every woman, girl, two-spirit person, deserves to feel safe in their community. Our people deserve to have their cries for help heard. Violence against Indigenous people is a crisis that has been underfunded for decades, especially when it comes to investigative resources, gathering testimony, and building data.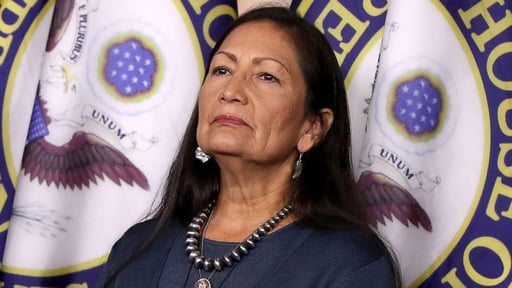 On April 1, 2021, Secretary of the Interior Deb Haaland announced in a press release, "the formation of a new Missing & Murdered Unit (MMU) within the Bureau of Indian Affairs Office of Justice Services (BIA-OJS) to provide leadership and direction for cross-departmental and interagency work involving missing and murdered American Indians and Alaska Natives." The unit will work toward resourcing the investigation areas with federal agencies.
This new effort, again led by Native women, provides our communities a spark of optimism. Even so, there is so much more to address. I am reminded of an old story about a community that lived by a great big river.
One day, the community members saw a body floating down the river. Panicked, they worked together to retrieve the body. The next day, another body came down the river. Every few days, another body. Distraught, the people came together to decide what to do with the bodies. They had long conversations about how to identify, perform appropriate ceremony, and honor the unidentified lost lives. Then the Elders of the community spoke and gave a call to action for the people. "You must travel up the river. We have to determine WHY the bodies are coming in the first place."
The lesson resonates today as we must look to the systemic causes of all forms of violence against women, girls, and two-spirit people and examine the underlying social, economic, institutional, and historical causes of this crisis. Philanthropy must also look at how they can play a role in this call to action and look at how they can support the new major policy shifts that have provided resources from the Federal Government.
As we learn about the real issues that Native people face today, we better understand the action, and we can respond with resources. People oppressed by colonization and ongoing trauma must expand capacity, power, and authority—for we are strong and resilient and worthy of support. On this National Day of Awareness for Missing and Murdered Indigenous Women and Girls, I ask that you travel up the river with us to understand the systemic problem.
At Native Americans in Philanthropy, we've spent thirty years talking about the role of relationships, Indigenous rights, and the history of colonization and how each of these contexts can inform our understanding of these issues. Together, we can develop an ethical relationship that validates the work of Native women leaders and amplify and further their work.
Here are some organizations that you can follow in order to learn how to work beside and with us:
The National Indigenous Women's Resource Center
The National Indigenous Women's Resource Center is holding a national grassroots action on May 5th to honor and call for justice for MMIWG through their #NoMoreStolenSisters campaign.
The Urban Indian Health Institute
The Urban Indian Health Institute has been a national leader in the effort to decolonize data for Indigenous people, by Indigenous people, especially around the MMIWG2S movement.
The Coalition To Stop Violence Against Native Women
The Coalition to Stop Violence Against Native Women is a social change organization with many incredible youth-led initiatives, including a Native Youth Summit.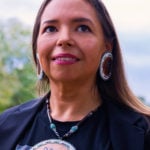 Meet The Author: Dawn Knickerbocker
Dawn Knickerbocker belongs to the Anishinaabe people from White Earth Nation. She is an enrolled member of the Minnesota Chippewa Tribe from the Ottertail Pillager Band of Indians. Dawn brings her experience in philanthropy and in supporting Native communities. She holds a B.A. in organizational management and completed graduate work in social impact and human rights practice. You can read more about her on her page.