NAP and NCEL Launch New Partnership
November 14, 2023
| 4 min read
NAP and NCEL Launch New Partnership
Today, Native Americans in Philanthropy (NAP) and the National Caucus of Environmental Legislators (NCEL) have joined forces in an effort to enhance collaboration between philanthropic funders, Tribal leaders, and state officials. One of the biggest barriers to stronger partnerships is a lack of knowledge and understanding by state elected officials about Tribes. Tribes hold and maintain vast natural resources and environmental cultural knowledge and they have distinctive political and legal power through their nation-to-nation relationship with the federal government. To overcome these hurdles and increase financial support for these communities, it is crucial to ensure that the philanthropic sector and state officials acknowledge and support the leadership of Tribes.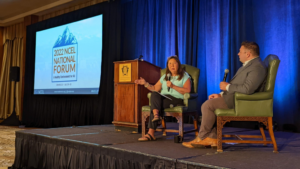 Washington State Representative Debra Lekanoff and NAP CEO Erik Stegman speaking on state/Tribal relations at NCEL's 2022 National Forum
As part of this collaboration, NAP and NCEL will harness their expansive networks to develop educational programs that shine a light on Tribal climate and conservation efforts. By doing so, they hope to foster stronger connections between private philanthropic funders, regional funding networks, Tribes, and state officials. NAP and NCEL are also working to catalyze the utilization of state resources to support Tribal climate and conservation initiatives by aligning philanthropic resources. What Can We Learn: Lessons can be drawn from recent philanthropic endeavors aimed at catalyzing investments through the Inflation Reduction Act (IRA). States have begun forging partnerships with Tribes to better manage natural resources, and there is a growing interest in further collaboration. Philanthropy has a crucial role to play in supporting the establishment of public-private funding channels that can effectively bolster these partnerships and accelerate progress. This June commemorates the one-year anniversary of a momentous milestone—the enactment of the groundbreaking Bipartisan Infrastructure Law. This landmark legislation represents a significant federal investment in Tribal Nations, with far-reaching implications. Shortly thereafter, the Inflation Reduction Act further solidified the commitment to supporting Tribal communities with nearly $14 billion earmarked for Tribes. Together, these investments can be levered and supported by the philanthropic sector and we are starting to see great examples of collaborations. Learn More and Join Us: Today marks the announcement of the partnership between NAP and NCEL, which seeks to amplify the voices of Tribal leaders, enlighten lawmakers on their treaty obligations to uphold Tribal sovereignty, and highlight the funding opportunities available to both states and Tribal nations. By fostering public-private partnerships, states and Tribes can gain access to vital resources that empower Indigenous leadership and facilitate co-management of public lands while integrating traditional knowledge into decision-making processes. In the coming months, NAP and NCEL will embark on a learning series to educate state legislators on strategies to enhance and fortify state-Tribal partnerships. The series commences on July 11 with the inaugural event titled "Tribal Relations 101 for State Legislators." This session will provide state legislators with a foundational understanding of how they can prioritize Tribal perspectives in policymaking.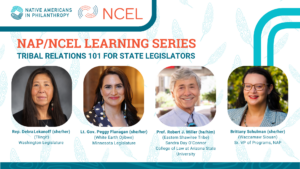 Learn more about this event and register to join us on July 11. The second part of the learning series will take place during NCEL's National Forum in Indianapolis, Indiana in August. During this session, NAP and NCEL will highlight policy options and best practices for state legislators on topics such as co-management, bison reintroduction and restoration, and returning land back to Tribal communities. Learn more about NCEL's National Forum for state legislators. The learning series will conclude in the Fall with a session focusing on upholding treaty rights and the benefits this has as it relates to the environment. By fostering a deeper understanding of Tribal issues and facilitating meaningful collaboration, NAP and NCEL aim to drive positive change in Tribal climate and conservation work. Through this partnership, they endeavor to strengthen the bonds between philanthropy, Tribal communities, and state officials, ultimately making a lasting impact on the environment and the well-being of Native Peoples.

###

Created by and for state legislators, the National Caucus of Environmental Legislators is a 501(c)(3) nonprofit that organizes over 1,200 environmentally-committed state legislators from all 50 states and both parties. NCEL provides venues and opportunities for lawmakers to share ideas and collaborate on environmental issues. Native Americans in Philanthropy promotes equitable and effective philanthropy in Native communities. With more than 30 years of experience in the field, we work closely with our counterpart organizations advocating for Tribal Nations.