New Report Outlines Initial Data on Funding Priorities For Tribal Communities
November 14, 2023
| 2 min read
New Report Outlines Initial Data on Funding Priorities For Tribal Communities
In a significant stride towards uplifting and amplifying the voices and perspectives of Indigenous communities, Native Americans in Philanthropy (NAP) recently released a preview of the highly anticipated Tribal Nations Listening Session Report.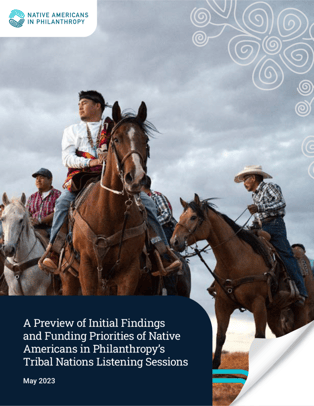 The Tribal Nations Listening Session Report represents a groundbreaking initiative led by Native Americans in Philanthropy, a national organization committed to advancing philanthropic practices that support and empower Indigenous communities. Recognizing the need for increased collaboration, NAP initiated a series of listening sessions with tribal nations, creating a platform for Native American leaders to voice their concerns, share experiences, and contribute to shaping philanthropic efforts. This report preview reflects the culmination of extensive engagement and dialogue with Tribal leaders, Tribal government officials, Native non-profit organizational leaders, Indigenous community organizations, and Elders from across what is now known as the United States. As the philanthropic sector endeavors to address historical disparities and foster more equitable partnerships, this report provides broad categories that Tribal leaders and their representatives have identified as an important way for philanthropy to engage with Native American and Indigenous communities. It's important to note that this Report Preview and its initial findings are only the beginning of this work. In 2024, we'll be releasing an updated version of the full Tribal Nations Listening Session Report to inform Native and Indigenous communities, funders, and the larger philanthropic sector on the funding priorities identified both nationally and regionally. We are currently engaged in multiple outreach efforts to ensure that this survey is representative of current realities and priorities of Indigenous peoples. However, we hope that in sharing the beginnings of this crucial research, we can prompt discussion and action in the necessary spaces to further strengthen the pathways to equitable and effective philanthropy for Native communities with the following identified funding priorities:
Education Supporting education in Tribal communities is crucial for fostering holistic support for students to succeed throughout their early childhood to college. This funding priority focuses on defining quality education to include culturally relevant curriculum, investing in educator recruitment to increase the number of Native instructors, mental health support, and investing in educational infrastructure to create optimal learning environments.
Language, Culture, and Arts Preserving and revitalizing Indigenous languages, cultures, and arts is vital for the well-being and identity of Tribal communities. This funding priority aims to support language immersion programs, language educator retention and recruitment, cultural preservation initiatives, and addressing the rapid loss of Elders in recent years due to the COVID-19 pandemic.
Economic and Workforce Development Promoting economic self-sufficiency and sustainable livelihoods within Tribal communities is the focus of this funding priority. It encompasses initiatives such as supporting entrepreneurship, small business development, job training programs, workforce readiness, and access to capital and resources that empower individuals and strengthen the economic foundation of Tribal nations.
Environmental Stewardship Recognizing the deep connection between Indigenous communities and their ancestral lands, this funding priority emphasizes environmental stewardship and sustainability. It encompasses projects related to climate resilience, food production, natural resource management, the preservation of sacred sites, ensuring the preservation of ecological balance and the protection of cultural and spiritual practices.
Housing Improving housing conditions and addressing housing disparities within Tribal communities is a critical funding priority. It focuses on supporting affordable housing initiatives, infrastructure development, and community-led efforts to create safe, healthy, and sustainable housing options for Tribal members, ensuring dignity and stability for all residents. As philanthropy continues to evolve, the Tribal Nations Listening Session Report serves as a powerful reminder of the importance of engaging directly with affected communities and integrating their wisdom and expertise into decision-making processes. By heeding the lessons learned from this report, philanthropic organizations have an opportunity to drive meaningful change, create lasting partnerships, and contribute to the empowerment and resilience of Indigenous peoples and communities.